Our Visions
To be the premier institution in providing reliable and quality natural resource products and services to support nation building.
Our Mission
Be the professional agency known for sustainably harvesting, marketing and equitably distributing the nation's natural resources ensuring availability, accessibility and affordability.
Why Choose NRDCL
NRDCL is the professional agency known for sustainably harvesting, marketing and equitably distributing the nation's natural resources ensuring availability, accessibility and affordability.
Our Core Values
Transparency and Accountability: Be disciplined, transparent and accountable for our decisions, behaviors, attitude and results.
Integrity and Honesty: Be fair, honest and ethical in what we seek to do and how we deliver as an organization, and have zero tolerance to corruption.
Productivity and Efficiency: Strive for high‐levels of productivity and efficiency.
Innovation and Creativity: Be creative and innovative in improving the services and technologies to realize our strategic goals (vision, mission and objectives).


About Our Company

Until 1979, harvesting of timber was carried out by allotting working-coupes to contractors through open auctions. This practice was found to be unsustainable, as the contractors operated the areas with the objective of making the maximum profit and without paying any regard to the scientific operation and management of forest. In order to institutionalize the practice of scientific management of forest resources on sustainable basis, a Logging Division was established under the Forest Department in 1979 to harvest timber departmentally after the logging operation programs were nationalized. However, the departmental operation had drawbacks due to lack of financial autonomy, as the Division had to rely completely on government financing through the normal annual budget; it's earning being directly remitted to the Ministry of Finance, as a result of which "plough-back mechanism" could not be applied for the revenue earned. Therefore, to overcome the departmental operational deficiencies, the Logging Division was upgraded to a Corporation known as Bhutan Logging Corporation (BLC) in 1984 under the Royal Charter in order to carry out part of its mandate and, at the same time, be able to:
Plough back the generated funds for the all round development of the Forest Management Units,
Function along commercial line and bring about efficiency in operation,
Create an organization of competent foresters and technicians. In spite of its commercial nature, be sensitive and concerned about the environmental needs in the units. In 1996, BLC was upgraded to Forestry Development Corporation Limited (FDCL) and entrusted with commercial mandates. In November 2007, FDCL was restructured as Natural Resources Development Corporation Limited (NRDCL) as per the Executive Order of the Prime Minister vide letter No PM/01/07/571 dated 7th November 2007 with mandate to manage sand, stone and other natural resources in addition to timber. NRDCL is owned by Druk Holding and Investments (DHI), which is a 100% Government owned Investment Company and is governed by the Articles of Incorporation under the revised Companies Act of the Kingdom of Bhutan 2000.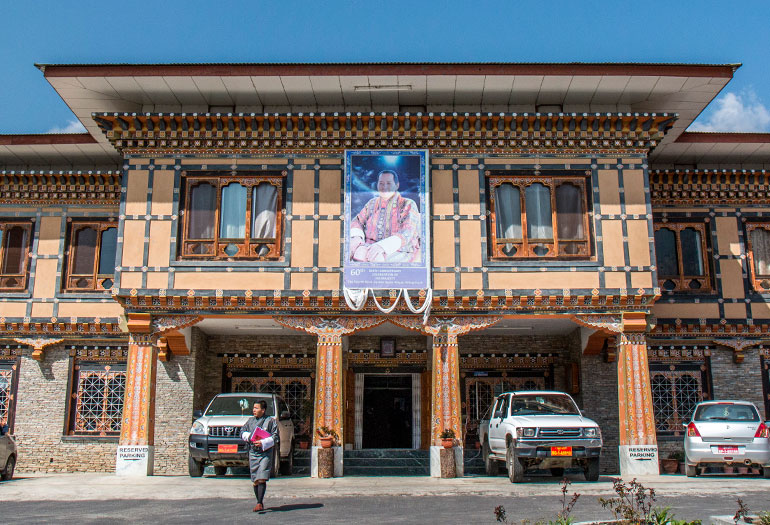 As envisioned by the DHI, the erstwhile Wood Craft Centre Limited (WCCL), also one of the DHI Owned Companies, was amalgamated with NRDCL from April 1, 2021 based on the strategic realignment of WCCL's business activities along the same line of wood based business of NRDCL. The amalgamation is primarily aimed at setting industry benchmarks and reinforcing the mandate of making timber resources affordable, available and accessible to the general public. The Centre is now referred to as Wood Craft Centre (WCC) under the umbrella of NRDCL and continues to function from Langjophakha, Thimphu.
Being entrusted with both commercial and social mandates, NRDCL aims to be the pioneer in the professional management of natural resources in the country. It functions with a firm belief in its core values of transparency & accountability, integrity & honesty, productivity & efficiency, innovation & creativity, commitment & teamwork, respect and fairness and healthy and safe workplace in making the natural resources as construction materials "available, accessible and affordable" to the general public in support of the nation building.
"As a developing country, we have limited resources. We must manage our available resources wisely, minimize waste, and ensure that all our resources are directed at improving the wellbeing of the people, and in fulfilling our national vision"
His Majesty The King Jigme Khesar Namgyel Wangchuck.